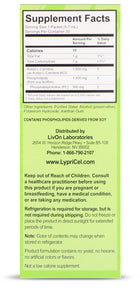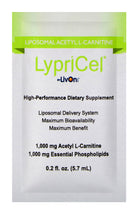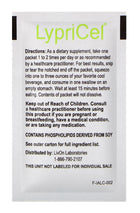 Description
A unique, high-performance dietary supplement
Liposomal Delivery System
Made by LivOn Labs
Maximum Bioavailability
Maximum Benefit
1,000 mg Acetyl L-Carnitine
1,000 mg Essential Phospholipids
Non-GMO
Sugar Free
Gluten Free
Hexane Free
By LivOn Labs
WHY LIPOSOMAL® ACETYL L-CARNITINE
Brain Cell Health*
Fat Metabolism*
Supports Athletic Performance*
The pathways to absorb Acetyl L-Carnitine are complex and unreliable, and absorption depends on the concurrence of several favorable conditions. The body can't store any excess Acetyl L-Carnitine that gets left behind in the blood or the digestive system.
Using patented technology, we wrap the Acetyl L-Carnitine in double-layered spheres (liposomes) that protect the nutrient through the digestive system and transport it into the bloodstream for absorption in the cells.
LIPOSOMAL ALCAR FOR BRAIN FUEL + MORE
1000 mg Essential Phospholipids
The same material that makes up your cells
Assimilates into cells with ALCAR intact
Derived from non-GMO soy lecithin
500 mg Phosphatidylcholine
Vital to healthy cardiovascular, reproductive, immune, and nervous systems*
Required to synthesize neurotransmitters for proper brain function*
Fortifies cell membranes to protect cell contents*
HOW TO TAKE LYPO-SPHERIC® ACETYL L-CARNITINE
As a dietary supplement, take one packet 1 to 2 times per day or as directed by a healthcare practitioner.
Take on an empty stomach
Tear packet at the notches
Squeeze the entire contents of the packet into 1–3 oz. of a cool beverage
Swallow in one gulp like a shot
Wait at least 15 minutes before eating
Contents of packet will not dissolve
Do not mix the Lypo-Spheric® Acetyl L-Carnitine with hot beverages or in a blender as this could damage the liposomes.
Refrigeration is required. Do not freeze or place the product in direct sunlight for extended periods of time.
If you open a packet and do not consume all of it, place the packet in an airtight bag or plastic wrap and refrigerate up to 24 hours.
Warnings
Keep out of reach of children. Consult a healthcare practitioner before using this product if you are pregnant or breastfeeding, have a medical condition, or are taking any medication.
Store at room temperature. Do not freeze or place the product in direct sunlight for extended periods of time.
Note: Packets may expand as latent air from the filling process tends to expand over time. This does not affect the quality of the product.
Not a low calorie supplement.
*These statements have not been evaluated by the Food and Drug Administration. This product is not intended to diagnose, treat, cure or prevent any disease.