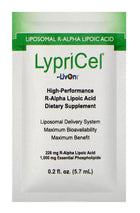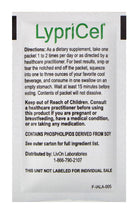 Description
A unique, high-performance dietary supplement
Please be advised: Due to Covid-19 and limited production, our current inventory of Liposomal R-Alpha Lipoic Acid expires at the end of November 2020 (11-20-2020). Rest assured this product is a 30 day supply and if taken accordingly will be safe and effective before the listed expiration date. Please contact us if you have any questions.

Liposomal delivery system
Made by LivOn Labs
Maximum bioavailability
Maximum benefit
226 mg R-Alpha Lipoic Acid
1000 mg Essential Phospholipids
Non-GMO
Sugar-free
Gluten-free
Dairy Free
No Hexane
LypriCel Liposomal R-Alpha Lipoic Acid:
R-ALA is a universal antioxidant that may help with metabolic support.

Liposomal R-Alpha Lipoic Acid for enhanced bioavailability and absorption.

Supports healthy insulin sensitivity and glucose levels.

Zone/Paleo Diet Friendly.
Liposomal Delivery System:
Maximum absorption to provide your body with essential phospholipids that strengthen your cells.
Suggested Use
No Mixing
No Blending
Use Cool or Room Temperature Beverages
As a dietary supplement, take one packet 1 to 2 times per day or as directed by a healthcare practitioner. For best results, snip or tear the notched end off the packet, squeeze into one or three ounces of your favorite cool beverage, and consume on an empty stomach. Wait at least 15 minutes before eating. Contents of packet will not dissolve.
Other Ingredients
Deionized water, alcohol (preservative), Natural Fruit Flavors, Xanthan Gum, Licorice Extract, Citric Acid.
Contains phospholipids derived from soy.
Product formulation contains, no yeast, no hexane, no artificial colors or flavors.
Warnings
Keep out of reach of children. Consult a healthcare practitioner before using this product if you are pregnant or breastfeeding, have a medical condition, or are taking any medication.
Store at room temperature. Do not freeze or place the product in direct sunlight for extended periods of time.
Note: Packets may expand as latent air from the filling process tends to expand over time. This does not affect the quality of the product.
Not a low calorie supplement.
*These statements have not been evaluated by the Food and Drug Administration. This product is not intended to diagnose, treat, cure or prevent any disease.